QUARTZ  AND GRANITE WORKTOPS 

EDGE PROFILE.
In this Discuss we talk about what the different edges are for quartz and granite worktops and countertops and how to choose a finish best suited for you!
We note that it is important to find the right company and how to send them the correct information including quartz or granite colour, measurements, and thickness to get an accurate price.
In this article we will show you what options you have and what they entail. For you to achieve the most aesthetically pleasing worktops, take the time to look and choose what edge best suits the atmosphere you want to create in your space.
Edges, kitchen quartz and granite worktops profiles.
The edge will represent the feel and look of your kitchen, such a small choice can have such a dramatic effect in setting the tone of your kitchen.
There are many different thickness options for quartz , marble, and granite slabs available 12mm, 20mm, , 30mm.
But the Thickness is not the only thing you can choose from, knowing your options are important! The edge shape gives a completely different undertone to how your stone worktop is going to be admired.
Common quartz and granite worktops edge profiles

Pencil round: This is viewed as the child friendly design, with a slightly rounded edge yet still giving it a square finish giving this edge a softer and safer finish.
Shark nose: This type of edge gives the illusion of a floating counter top with a sharp and dramatic angel.
Bull nose: Bull nose edges are another child friendly finish; this edge is commonly found in childcare and places with small kids. This edge is great for cleaning purposes as its rounded all the way around making it easy to clean.
 pencil round with a mitred edge: This is your child friendly design elongated with the join line forming along the edge. By having a mitred edge with a pencil rounded edge gives the appearance that there isn't a join line, this is because they can hide it along the edge and polish it out.
pencil round with layered edge: A child friendly design with a thicker edge allowing the join line to fall in the middle of two 20mm pieces. This gives a layered effect as the join line is discrete but still noticed. This type of edge is done by your stonemason it is not a prefabricated finish by the stone manufactures.
Premium quartz and granite worktops edge profiles
Most of these edges need 30mm quartz or granite worktops thick. and they are more expensive than the popular ones.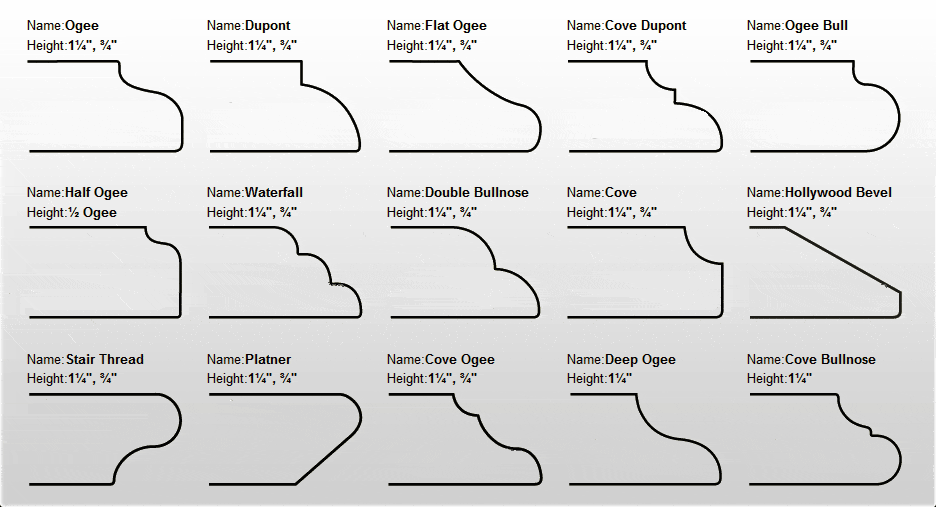 At our factory in Kent we make all types of these edges. Get free quote for your new quartz or granite worktops. Since we based in Kent we can supply and install  these stone countertops to all customer in London, Kent, Surrey, and Essex.